GA (gt), Jens Mikkel Madsen (b), Thomas Eiler (drums)
With this trio I have found the perfect home for my guitar playing and compositions in interplay with two great musicians, who I've been playing with for many years. The trio format gives us the space to play with the tunes in a free way, and we enjoy playing fixed compositions with an open approach. We mostly play original compositions but some jazz standards and other materials also find their way into the mix.
Our debut album 'Blodmånen Og Dig' will be released in april 2020.
Kasper Tranberg (trp), Christian Vuust (sax), GA (gt), Thomas Sejthen (b), Morten Nottelman (drums)
This group had its debut in the fall of 2016. Exciting compositions with a lot of different inspirations and a bunch of fantastic musicians to execute them. Among other things I am trying to use orchestral composition techniques in a small group setting.
New album 'First Movement' out June 25th 2021
THE GREAT SILVER BEAUTY BOX
Misc. musicians
This is a name, I have used for different crossover projects with groups consisting of both classically trained and improvising musicians. The setup and musicians can change but the musical idea is consistent in that I always try to find a common ground for the musicians, while at the same time expressing aspects of my soundworld.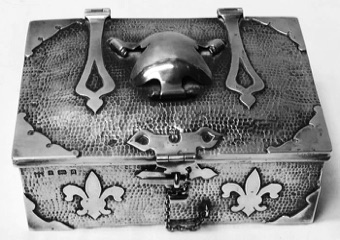 former bands with me as leader & composer include:
SAMMENSURIUM
GA (gt), Jesper Smalbro (b), Søren Mehlsen (dr) - guest: Michael Blake (sax)
HULEPALADS
Thomas Agergaard (sax/fl), Anders Banke (sax, cl), Alexander Kraglund (vl), John Ehde (cello), GA (gt)
KEJSER PINGVIN
Jacob Danielsen (sax, cl), Ole Visby (cl), Jens Bang (trb), GA (b-gt), Eddi Jarl (dr)