OPENING SEQUENCE, DEJA VU, FINALE (2014)
for el-gt, tape and ensemble
Duration: 10 min, 8 min, 8 min.
Instrumentation: el-gt, tape. 6 music-machines +
ensemble: cl, 2 t-sax, 2 trb, 2 cello.
Work in 3 parts for solo electric guitar and taped sound, with a computercontrolled surround setup of 16 small speakers, with 6 homemade mechanical music-machines, and at times with an ensemble of 6 musicians. Composed as the framework for the largescale concert/performance Through The Looking-Glass.
Premiered on 2. November, 2014.
CLICK for video of all three compositions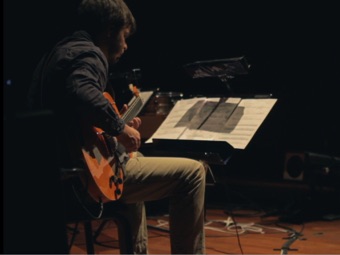 SHEET PAPER CONSTRUCTION (2012, rev. 2014)
for solo clarinet
Duration: 10-12 min.
Solopiece for clarinet, sculpturally folded sheet paper, light and amplified paper sounds
Premiered by Ida Fuglerud, December 2012.
HVAD DET ER OG HVAD DET IKKE ER (2009)
for tenor saxophone and piano
Duration: 10 min.
Duo chamber music in two parts.
Premiered by Jacob Danielsen and Eskild Skovbakke Winding, 18. April 2009.